The Matthew Jacoby Library primarily serves the faculty, students, and staff of Divine Word College by providing resources for scholarship, recreation, and devotion.
The Library is also open to students and faculty of area colleges, and to area residents. All visitors wishing to borrow library materials must have ID to register for a library card. Library materials are available through Interlibrary Loan, which will be handled by your college or public library.
Library items can be borrowed for a period of four weeks, and may usually be renewed. Reminders will be sent before items are due and notices will be sent should items be overdue.
Should you wish to borrow an item that is currently loaned to another library user, you may place a request on that item using the OPAC. That library user will not be able to renew the item and will be notified to return the item to the library for your use.
---
Who was Fr. Jacoby?
Fr. Matthew Jacoby, SVD, was the first director of the Divine Word College library from its beginning in 1964 until his retirement in 1976. That same year the library was named in his honor. He continued to live at Divine Word College until 1986 when he joined the retirement community at Techny, Illinois. Fr. Jacoby passed away in the summer of 1990.
Fr. Jacoby, a native of Milwaukee, was ordained as a Divine Word Missionary priest in 1932. He is remembered by area citizens for the many hours he devoted teaching youngsters to swim in the Divine Word College swimming pool.
To honor his work in the community, the Epworth City Council has named the road in front of the college "Jacoby Drive."
---
Library Personnel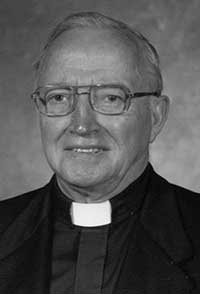 Daniel C. Williams, ML
Library Director
563.876.3057 ext. 207
dwilliams@dwci.edu

Reference, Cataloging, Acquisitions, Information Literacy



Brother Tony Kreinus, SVD, MA, MALS
Assistant Librarian
563.876.3353 ext. 262
akreinus@DWCI.EDU

Interlibrary Loan, Serials