Stepping Back for the Memories
by Henry Pinson - High School at Miramar 1944-1948, Novitiate 1948-1950, St. Paul's Juniorite at Epworth 1950-1952, Major Seminary at Techny 1952-1958
I have been asked to step back in time to recall my student years with the Divine Word Missionaries. I do not think that Ms. Sandy Wilgenbusch realized that I have to return to the year, 1950, when I and my classmates arrived in Epworth from the novitiate at Techny.
When I received the e-mail concerning this stepping back, my memory kicked in. At this stage of my life I am lucky that I can remember what I am supposed to do that I had planned yesterday.
In those days we were in the old buildings of the Methodist seminary of bygone years. At that time the Divine Word College was known as St. Paul's Juniorite which provided two years of college before the major seminary at Techny. Those courses were to prepare us for the years of philosophy and of theology.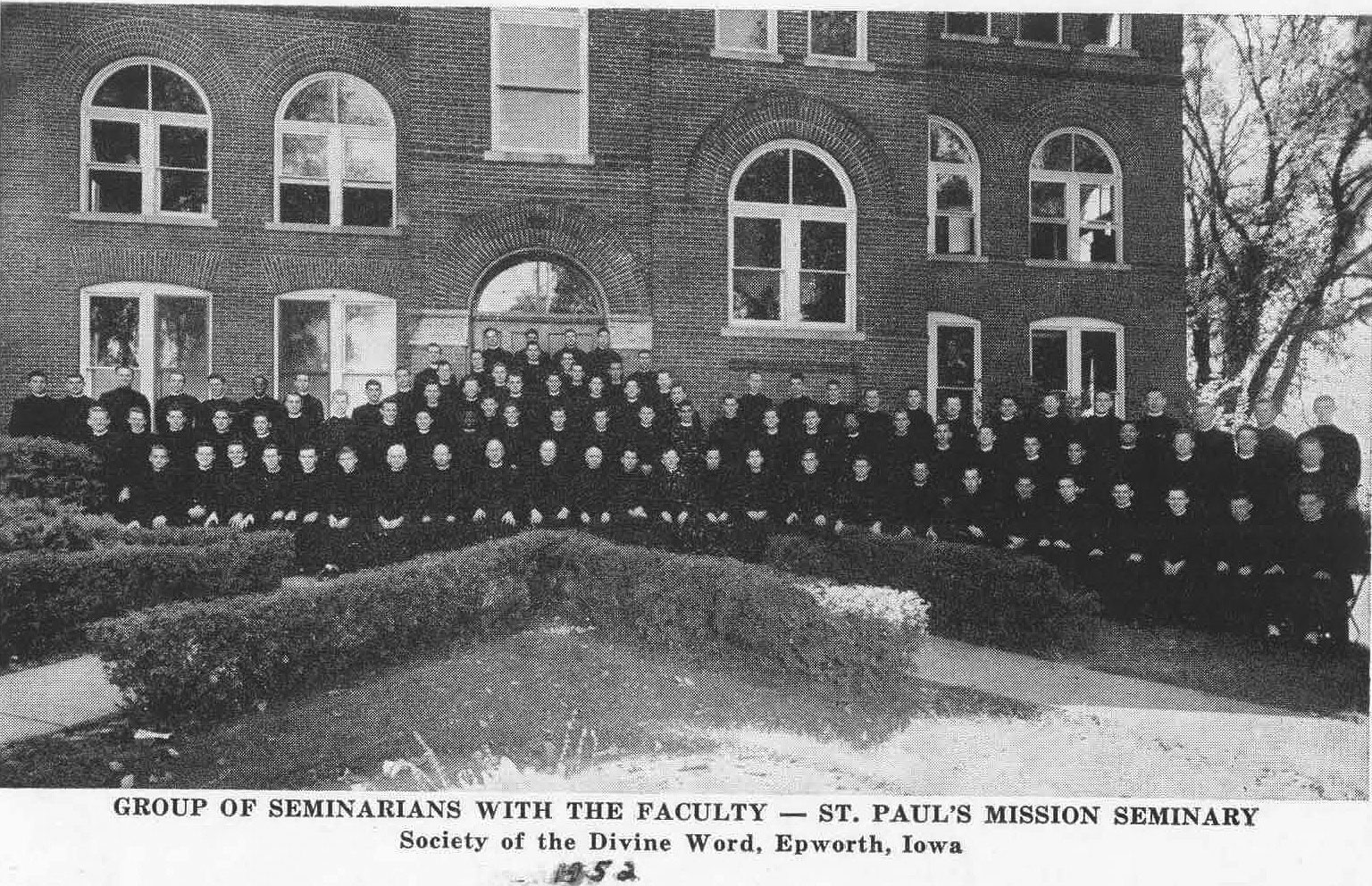 After Vatican II, the college program changed completely. St. Paul's Juniorite moved at least three times, once to Upper Michigan, once to Miramar, back to Epworth with a new name change, Divine Word College. During all these wanderings, I had no knowledge. Only later when Miramar would have alumni meetings, did I learn from former students the happenings of these years.
The first winter at Epworth, the snow came on and on, and with it the coldest of days, 20 below zero. Willie Liebert looked out the window, saying, we can catch rabbits in this snow and cold, and I would like rabbit stew. So Liam Horsfall and I put on our boots, gloves, scarfs and hats to chase and to catch rabbits. That night for supper we all had rabbit stew.
Life-long skills
Another fond memory that has influenced me down the long years, I learned to play the clarinet. During rogation days with John Paulaski leading, we played our instruments parading around the grounds. Later in life, I joined marching bands and orchestras.
Learning music as a student lead me to join church choirs and to lead the congregation in singing. I laugh now. During those years, those in authority and leaders did not consider I was of singing quality. But a pastor of our church asked me to lead the singing. My children cringed when they heard that, but best of all the entire congregation sang.
Love of books
As students, we all had jobs of sorts. From Miramar, the high school years, and at Epworth and Techny, I worked as a librarian. A love of reading and books had been instilled by my aunt who was a school teacher. Before I entered first grade, I was reading adventure books by Lowell Thomas, his adventures to Tibet, the life of Count van Luckner and other tales. The SVD always had libraries in their seminaries. St. Arnold Janseen knew the power of the printed word.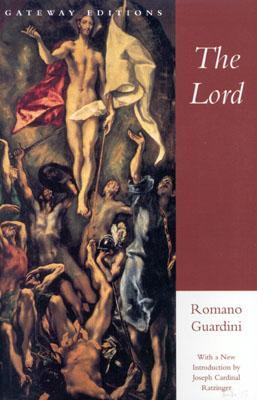 At Miramar I learned the Dewey Decimal system for libraries. When I arrived at Epworth, the rector learned I knew how to organize books in the correct order. At that time the library was in disorganized array. Slowly I worked cataloguing the books, placing them in correct order on the book shelves.
As new books came in, some were easy to catalogue, others harder. The subject matter of the book could be concerned by the title or by reading. One of the books that I remembered during my Techny year, The Lord, by Romano Guardini. The library had received a first edition. I read this book from cover to cover before placing it on its shelf for others. In my savings, not money, but processions that one keeps, is an essay which I had written on this book, The Lord. Pope Benedict XVI has great respect for Romano Guardini.
The love of books led me to my profession. After I had left Techny, I joined a printing firm which specialized in printing text books for schools, from kindergarten to post graduate. Over the years my house became a little library, kind of full of books.
As we were taught, learning the Greek language, 'panta rei,' everything moves, the printing firm went out of business. I moved on to other firms, from Rhode Island, to New Jersey, to Massachusetts. One firm printed children books which I read to my children.
Years later when I had to downsize, what was I to do with all the books? Some to my children, some to libraries, and some to neighbors, but I still have five shelves of books
Moving forward
Stepping back in time brings back memories, but I like to move forward. The Divine Word Missionaries had given me that instruction. 'Go and teach was Jesus' instruction.' At the end of mass, 'Go and bring your faith to others.'
Very simple, but sometimes hard to do, but just do it,
Henry
---
Field Days and Family Feast - Perrysburg Memories for a Lifetime!
by Art Roche, Perrysburg '66, DWC '70
Each spring, shortly before the end of the school year, was a weekend event called Field Days. These were intramural track and field competitions. Everyone was urged to participate regardless of ability, and most took it very seriously.
I remember gasping my way through the mile run competition. I was better at some other events including the high jump, shotput, discus and javelin. Stan Uroda excelled at pole vaulting. Across the highway from the school was a big open field. I would go there with Tom Richardson and practice the javelin. The school had only one javelin, so there was no choice of weights or styles. Not too many boys were interested in competing with the javelin. It was quite dangerous, and it was easy to see how someone could have been completely impaled by one. I think the sport was banned in Ohio a few years after we graduated. Field days were highly anticipated, and ended with awards ceremonies, ribbons and medals. (click image for larger version)
Another festive event in the Fall was called Family Feast. It has been a tradition at Divine Word schools for decades, and it still is. It was just a complete day and evening of celebration, camaraderie, a fancy dinner (by Divine Word standards), and a talent show, which I sometimes performed in with Bill Antonucci as The Refugees.
I think some years there was also a class play presented on that evening. Each class had a play sometime during the course of the year. Our class did a play called Lucifer's Lodge, which included the famous line spoken by George Thelen, "We're in danger!" I portrayed a werewolf in that one.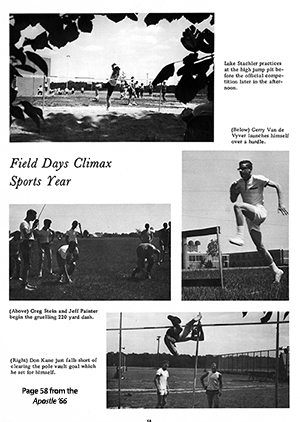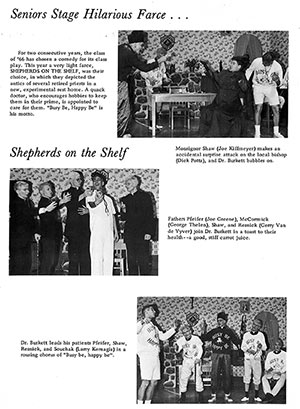 We also did a play called Shepherds on the Shelf, about retired priests. Jerry Van de Vyver and Joe Kiffmeyer were in that one. We did a gender reversal version of Mary Poppins called Perry Moppins. I was Perry, a prefect who came to bring law and order to a rowdy group of seminarians. It was written by my classmate Mike Kozuszek. There was a song in the original Mary Poppins titled "Let's Go Feed the Birds" which Mike translated into "Let's All Obey the Rules." It should come as no surprise that Mike went on to become a cop in St. Louis.
Probably the best play our class ever did was Arsenic and Old Lace in which Mike Kahle and Rich Schumacher played the Brewster sisters, Greg Stapels was the cop, Jim Preut and George Thelan were the burglars, and Larry Kernagis was Teddy Roosevelt. Rich Rademacher supervised the building of a beautiful set which included a grand staircase. (Click the image for a larger version)
One more theatrical masterpiece comes to mind: Rinse the Blood Off My Toga, a Wayne and Schuster Radio comedy skit. I played the part of Flavius Maximus, Roman private eye, with Steve Barney who played my sidekick. You can still see versions of this goofy comedy on YouTube. And 54 years later, I still have the script!
---
Put a guitar in his hands
by John Panek
What captured my attention as a high school Freshman in 1979 were the lively guitars in
our liturgies at East Troy. Upper classmen Brian Ries, John Rome, Phil Leonard, Doug Earp, all strumming their hearts out while Lou Wappel (English teacher, counselor and later our Dean), played the electricpiano and guitar. A chorus of student voices rounded out the music leaders and I recall Elgie Harris as the power voice of the group. I wanted to play guitar.
Lou Wappel started an evening guitar class for interested students and he said there was only one rule - "Practice, Practice, Practice." With a loaner guitar I practiced always and sometimes between classes. I received an Unsatisfactory mark on my report card for punctuality that year. But by Thanksgiving break, just 2 months later, I played my first guitar Mass with the upper classmen covering for my errors!
I bought my first guitar from Senior Joseph Nguyen in the spring of 1980 and it took me on a journey through high school. By our Senior year I was part of the core team,
with Jim Greene and Chuck Konkel, leading music for our Masses. We started evening classes to teach younger students to play. Jim, Chuck and I also strummed out songs for the seniors at Lakeland nursing home as our apostolic service. Jim Greene's enthusiasm for the music of the Beach Boys and Jan & Dean led to the creation of our band Sound City, with Jim as our leader, Len Uhal on drums, me on guitar and Pat Gaughan and David Walter on vocals.
The guitar took me to play ordinations at Techny and the funeral of our history teacher Fr. Larry Bohnen. I enjoyed touring with the seminary choir led by Fr Ken Anich even though I was not officially a choir member. After high school, I played with a group for my father's first Mass as a deacon and continued to play in each of my parishes since through the late 90's. I was fortunate to play for the funerals and weddings of friends. That first guitar now resides with my son who took it up in a self-taught kind of way, playing it for Masses and ministry when in college. While he has YouTube to help him learn, I had the guitar Mass.