What does it take to enter religious life as a Divine Word Missionary?
Is it for you? We can help you find the answers.
Religious formation is more than the give-and-take discussions within peer groups about what it means to be a member of the Society of the Divine Word, though that is part of it.
Religious formation is more than meeting with a Spiritual Director who will "walk" with you in confidence as you discern your path to religious life.
Religious formation is more than ministry outreach as you get a taste of doing God's work by serving others.
It is all of these things and more.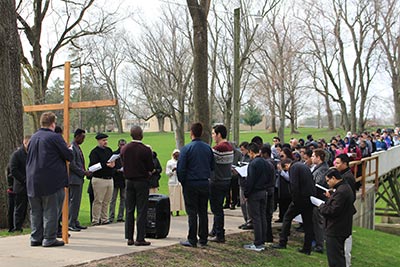 You not only eat, sleep, study, pray and work around Divine Word Missionary priests and brothers, you also encounter priests and brothers from other Catholic religious orders—both teachers and students—as well as religious sisters. You experience religious life through their daily examples. With students, faculty and staff from as many as 20 different countries—sometimes more—you are exposed to a host of different cultures. You discover the diversity of God's children and the shared love of Jesus that binds us all. You experience what it means to be part of the "Universal Church."
Formation at Divine Word is not a one-size-fits-all program. The team places students in groups based on their grade level and the amount of religious training they already have. Religious sisters also have their own groups.
Formation at Divine Word College combines the shared interaction of a peer group, the individual guidance of a Spiritual director and ministry with the faith-filled experience of a richly diverse college community.
In this way, formation at Divine Word College truly informs you about religious life so you can decide if it is right for you.