Since 1857, Megan Hall has been the home to the students of several educational institutions.
Today, Megan Hall, named after Iowa born missionary Fr. Thomas Megan, SVD, is home to 40 religious sisters from around the world who are students at Divine Word, including Sr. Norelly Manosalva, RCS, from Columbia –
"I have been living in Megan for six years and it is a blessing for me. I am on campus and know it is a safe place to live. On the other hand, we have some challenges due to the many years the building has been used by DWC students. It is clean and nice but an old structure. Overall, the building is still fine, but it needs some repairs before serious structural damages occur. Hopefully, with the generosity of friends and benefactors of DWC, this place stands for many more years to come, in benefit of future Missionaries who come to study at DWC."
Megan Hall has been a worthy structure for many years, but now it needs help.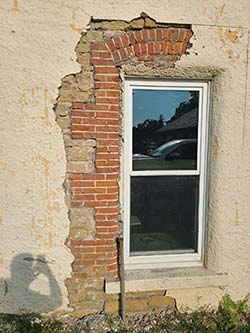 The old outer stucco is falling off and the thin insulation makes it hard to keep the sisters warm in the winter and cool in the summer.
Drainage around the building flows to the building instead of away from it. As you can imagine, this has resulted in water leaking into the bottom floor.
Fixing the problems
To help with energy efficiency, all the stucco will be removed, then the entire building will be wrapped with insulation and a majority of it will be covered with vinyl siding.
To remedy the drainage problem, the immediate area around the building will be landscaped and tiled to make sure rainwater and melting snow flows away from the building. New gutters and downspouts will also be installed to take water away from the building.
The last piece of the project is the installation of an emergency generator. The generator will ensure the sisters will always have electricity in case of a power outage and protect against frozen pipes in the winter.
What will it cost?
The total project will cost approximately $474,143:
$150,220 -- removal, disposal and replacement of exterior
$29,463 -- landscaping and tiling
$114,050 -- wrap, insulation, gutters and siding
$98,606 -- emergency generator
$81,804 -- construction management/contingency/fees
You can help the sisters have better living conditions with your gift today!
Generous donors have already given $275,000 for the Megan Hall Makeover. That means $199,143 is still needed to make this project happen.
Will you help? Click HERE to make a gift online.
To further discuss the Megan Hall project, please contact:
or send your gift to:
Divine Word College
PO Box 380
Epworth IA 52045-0380