Monthly Donors make a difference!
---
Members of the Monthly Donor Club make regular gifts and receive:
Your special intentions remembered at Mass on the last day of each month
Monthly letter sharing current happenings in the lives of our seminarians
Your name prominently displayed on the Wall of Honor near the front entrance
Convenience of giving in smaller amounts throughout the year
Opportunity to use Electronic Funds Transfer (EFT) option for monthly gifts
Fewer appeal letters if you choose
Meet Omar Gonzalez

Financial support from our Monthly Donor Club members helps educate future Catholic missionary priests, brothers and sisters – like Omar Gonzalez.
Omar has known Divine Word Missionaries his entire life. An SVD priest has been assigned to his home parish, St. Joseph Catholic Church in Memphis, Tennesee, since he was born in 2001.
Parents encourage vocation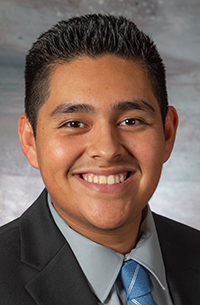 Omar was just seven years old when he decided he wanted to be a priest, "I remember being with my mom at church, pointing to our pastor Fr. Carlos and telling her, I want to be like him someday." Omar even practiced playing Mass in the living room with his brothers when he was little.
When Omar's parents immigrated to the U.S. from Mexico, they faced many challenges. But the priests they met when they first arrived helped them through those challenges. That's why Omar's parents and family are very supportive of his priestly vocation.
And that's why Omar wants to be a priest. "I want to be able to help counsel families and help them through any difficulties they may have. I want to be there for them, help them the way priests in my life have helped my family and me."
Omar likes being at DWC and believes the formation program is helping him discern his vocation. He really enjoys meeting people from different countries and learning about their cultures. Omar is a multi-talented young man, with an always happy, positive attitude. Traits that will help him be a great priest.
Your monthly gifts will help Omar achieve his dream!
If you wish to have your monthly gift automatically deducted from a bank account or credit card, we suggest a $5 per month minimum gift. Please complete the EFT authorization form to get started.
For more information contact Mark Singsank, Associate Development Director at 563-876-0097 or singsank@dwci.edu